Music.Portavista has been enriched by a new program of world music: the recording of a concert by the great Mauritanian singer Dimi Mint Abba.
Dimi Mint Abba comes from a family of Iggawins, a line of griots who enjoys a high reputation among the Moors. She left us in 2011 and this concert is a rare filmed testimony of her great talent. The poetic songs are accompanied by the lute tidnit and harp ardin, a rustic kora reserved to women, as well as the modern guitar. These songs are sweet songs improvised in Arabic fashion accompanied by the kora of West Africa.
Dimi Mint Abba sings ancient poems, the founding epics of past empires, and the tragic loves of transient lovers. Her songs embody all the memory of a people.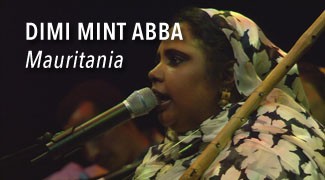 To watch a short excerpt click here.
The program is available in streaming to subscribers in HD.