Music.portavista enriched his JAZZ offer with a quartet concert by Joshua Redman, with Johnny Key on piano, Christian McBry on Bass and Brian Bley on drum. 
On tenor sax, Joshua Redman displays a clear and sharp tone, with however a predilection for gently sliding away, opening up like a wound and reaching the very hearth of a musical piece.
Joshua Redman is an American jazz saxophonist and composer. Redman won the Thelonious Monk International Jazz Saxophone Competition in 1991, and began focusing on his musical career. He was signed by Warner Bros. Records and issued his first self-titled album in the spring of 1993, which subsequently earned Redman his first Grammy nomination.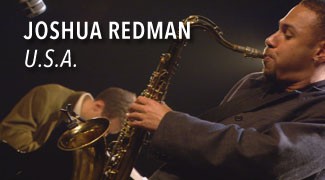 To watch a short excerpt click here.
The program is available in streaming to subscribers in HD.